Flying in a private jet with your children: good or bad idea? 12/06/2022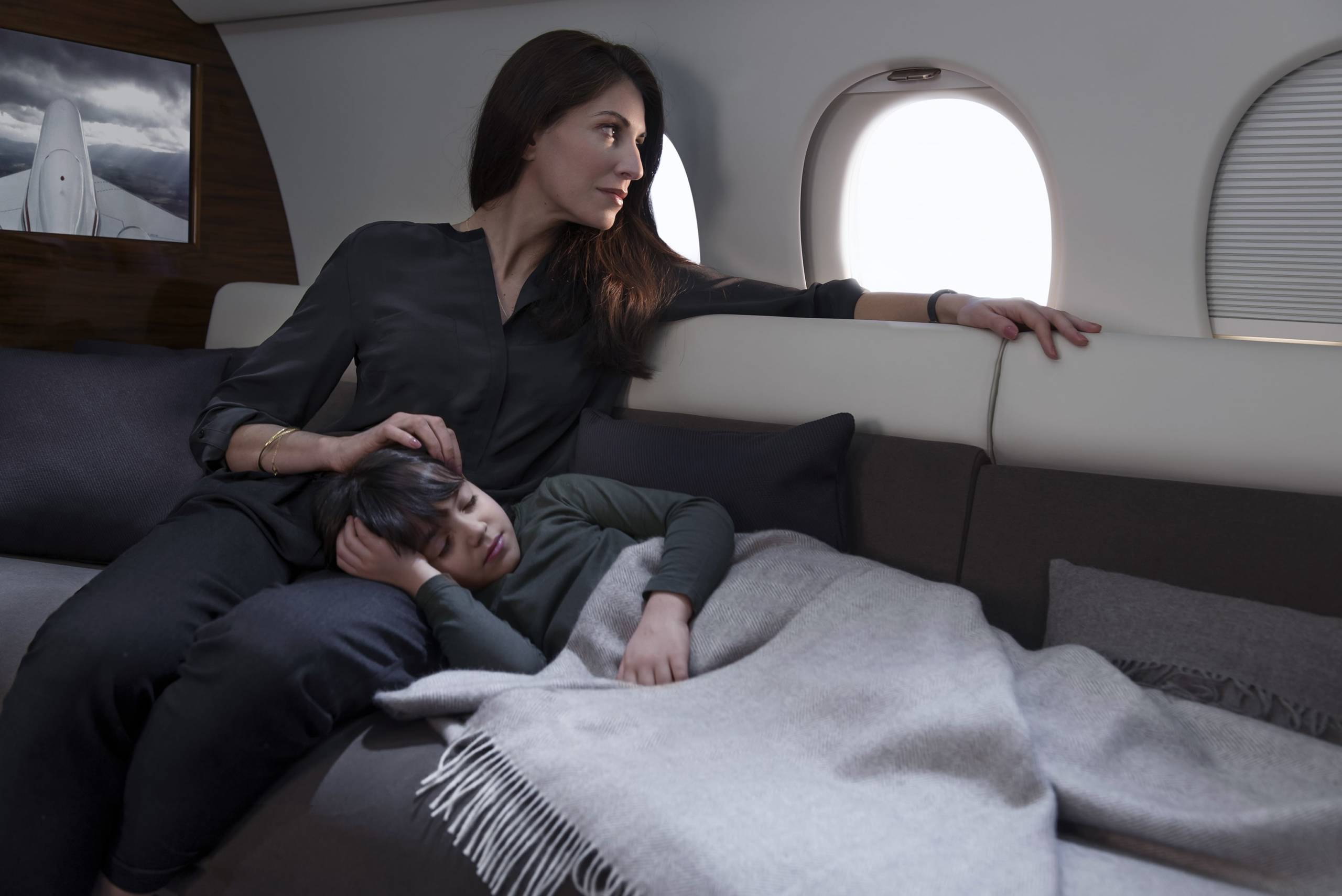 Are you thinking of renting a private jet for your next holiday, but are you hesitant about travelling with your children? Are your children too young to be accommodated in a private jet? Will they have access to all the necessary comfort on board? Will you be able to make the most of your flight and arrive in the best possible conditions? MK Partnair lifts the veil on your questions!
Flying in a private jet with toddlers and young children
At what age should my child have his/her own seat on a private jet?
The regulations for private jets are the same as for conventional airlines: a baby can travel on your lap until the age of two. From the age of two, the law requires that they have their own seat. You may prefer to bring a child seat or booster seat for added comfort, or we can arrange for them to be installed on your aircraft.
Many private jets have reclining seats and larger jets have flat beds on board, so you and your child can relax and sleep in comfort.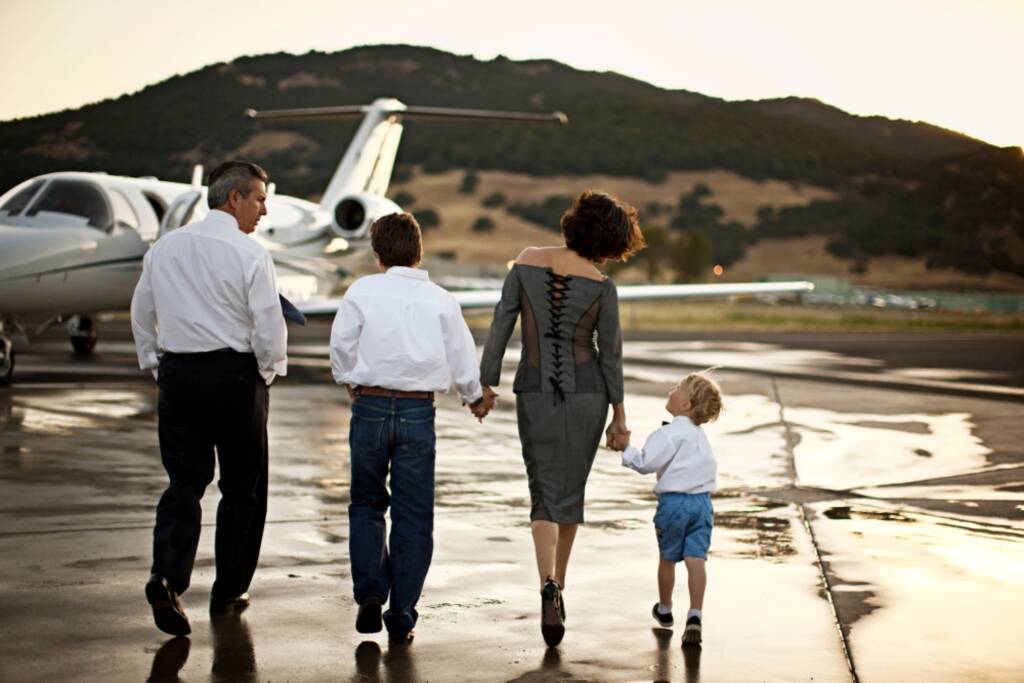 Can I arrange in-flight entertainment for my child on a private jet?
Most private jets are equipped with in-flight entertainment systems, with some models offering the most advanced viewing and communication solutions – including Wi-Fi on some larger aircraft, which allows you to stream your own content. Our teams can cater to your needs based on your and your child's preferences. We can also make sure that books and toys are waiting for you on board, to ensure a relaxing and playful journey with your child.
Unlike most scheduled airlines, in-flight entertainment can be activated as soon as your child boards the plane, so they are happy and comfortable from the start of the journey.
Most children also enjoy being able to meet the pilot up close and visit the cockpit – something they can't do on a regular airline flight.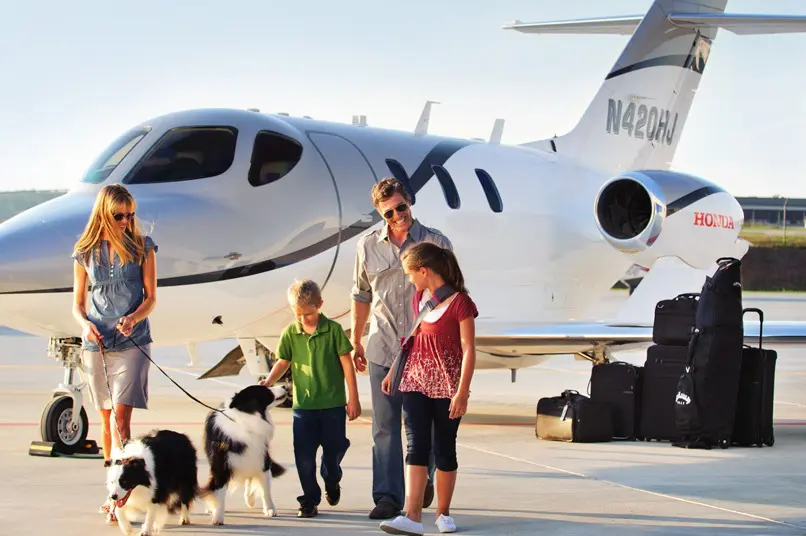 Is private jet travel really safe for me and my family?
Rest assured, our teams are experienced in organising flights for families – so we are committed to the highest possible levels of private jet safety. MK Partnair has a rigorous and ongoing safety policy, working only with a verified network of aircraft that meet the highest standards. Before your flight, our ground staff are available to answer any questions you may have regarding private jet safety.
Can you provide special catering for my child in a private jet?
Private jet catering is tailored to the needs of the passengers. We will therefore discuss this with you prior to the flight and arrange a menu tailored to the tastes your child will enjoy most. We can also provide specialised catering if your child has any food allergies or intolerances, or if you and your family have any religious or dietary requirements.
Can I take my pram or pushchair on board a private jet?
You can take your child in a pram or pushchair to the steps of the aircraft – they will be accessible in the baggage compartment or stowed in the cabin for easy access. The pram or pushchair can then be easily retrieved when you leave the plane.
Can ground transportation be arranged for me and my family on arrival or departure?
Our team will be happy to help you arrange your ground transportation to and from the private jet airport, ensuring that baby or child car seats are in place if required. At some airports, we can arrange for cars to be waiting for you near the steps of the aircraft, or just outside the private jet terminal, to ensure the fastest and smoothest possible departure.
Travelling with teenagers in a private jet
We try to cater for all appetites and musical tastes on board, so even the most discerning teenagers will be happy during your flight. As well as using their own devices (with Wi-Fi in some cases, depending on the aircraft), personal in-flight entertainment is available to suit all family preferences and ages.
We can also arrange for magazines and newspapers to be held on board to suit all ages and preferences of your family group.
Older children and teenagers also enjoy the opportunity to meet the pilots up close, ask them questions and observe the cockpit.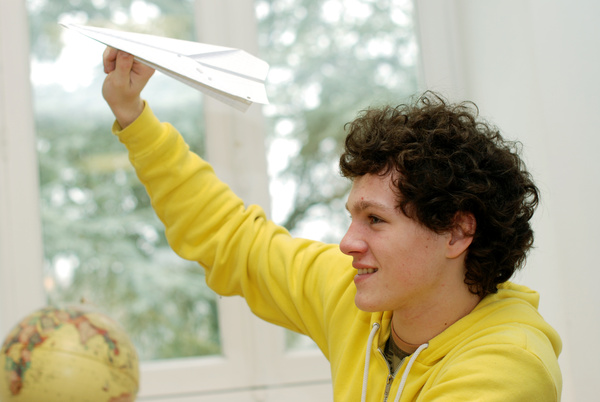 Thinking of hiring a private jet for your next family flight? Find out more about our available fleet.
Do not hesitate to contact our team for any further information. We will be happy to guide you towards a happy and serene family flight!